Emulsions were prepared with aqueous phase of sodium caseinate (Na Cas) and oil phase of algal oil & ethyl acetate mixtures by applying microfluidizer high pressure homogenizers at 50 MPa for two times after the pre-treatment using the shearing machine, then removing ethyl acetate by evaporation under reduced pressure. This process successfully yielded uniform algal oil nanoparticles with the highest peak below 100nm.

Algal oil, enriches with health-benefiting docosahexaenoic acid (DHA) which is essential for brain development in babies and supporting good blood flow to prevent cardiovascular diseases. Albeit with rich DHA content, protection against its oxidation and hard-to-dissolve in water characteristic become a challenge to achieve. Consequently, preparation of algal oil nanoemulsions presents a feasible method in the food industry.

Sodium Caseinate, approved by FDA, provides outstanding nutritional properties and is suitable for a variety of applications. In this experiment, sodium caseinate is used as the emulsifier which can be the presence between algal oil and aqueous phase. In addition, it can chelate metal ions in solution, scavenge free radicals, and stabilize oil phase.
Experimental Instruments and Chemical Reagents:

NanoGenizer-20k high pressure homogenizer, provided by Suzhou Willnano;
RV 10 Rotary Evaporator, by IKA;

Zetasizer Nano ZS, by Malvern;

T25 Digital ULTRA-TURRAX Disperser, by IKA;

Sodium Caseinate; Algal Oil with DHA Content≥35%; Ethyl Acetate, Absolute Alcohol, Analytical Purity and etc.

Method:
Aqueous phase preparation: dissolved sodium caseinate in 5 mmol/L phosphate buffer to gain 1% (m/v) solution, and added 0.02% sodium azide to prevent putrefication;
Oil phase preparation: the mixture of algal oil and ethyl acetate (10% algal oil and 90% ethyl acetate) was used as the organic phase, taking 10% of the volume of the emulsions (v/v);
Homogenization procedure: pre-homogenization conducted for 2 min by using T25 ULTRA-TURRAX Disperser with 6000 r/min. Then, applying Genizer microfluidizer high pressure homogenizers at 50 MPa for two times to yield nanoemultions. And the cooling systems were connected in both homogenization procedures to prevent the volatilization of ethyl acetate;
Solvent (ethyl acetate) evaporation: the sample was decompressed in the evaporator and processed a thermal treatment at 45 ℃ for 20 min to remove ethyl acetate;
Algal oil emulsions (AE-nano) were prepared by high-pressure homogenization as control, but ethyl acetate (an edible flavor permitted by GB 2760-96) was not added to the oil phase.
Results: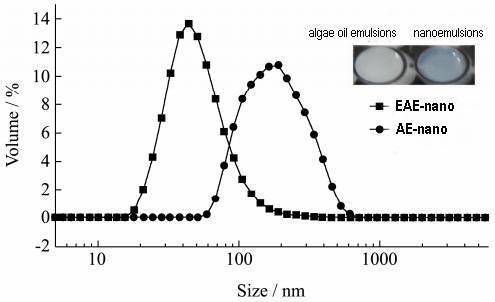 The figure depicts nanoparticles distribution and

their appearances of EAE-nano and AE-nano
Appearance: EAE-nano appeared to be translucent, while the AE-nano was opaquein.

Particle size: a single peak distribution was observed for both emulsions with good mano-distributions. And the highest peak for EAE-nano was at 58.8nm, while the AE-nano was at 158.1nm.
The chose method presenting in the article has demonstrated an optimum results in nanoparticle size, distribution and high emulsion transparency after homogenization treatments, and these results have important consequences for the utilization of food-grade nanoemulsions in beverage industries.
关键词:均质,微射流超高压均质机,海藻油纳米乳